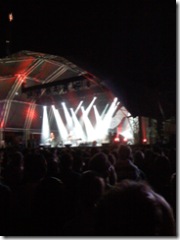 I attended my first "rock concert" last night for 11 years, because it's been 11 years since I last saw Crowded House in concert on the steps of the Opera House in 1996. We were a million miles from the front that day, but this time was different, maybe 20 ppl back but in a space that filled at least 10,000 people; we were a lot closer than maybe 8500 other people.
The warm up acts were ok, but they did set the scene. It was a glorious Western Australian night, maybe low 20s, clear sky with the city to the right and the Swan Bell Tower to the left, complete with ever changing (colour wise) Christmas star. A crescent moon rose over the back of the stage as Crowded House took to stage.
First up was some classic songs, Private Universe and Mean To Me. The crowd knew all the words, and it set the scene for the night. On numerous occasions Neil Finn stopped singing to let the crowd do it for him. 10,000 people singing in unison is something quite unlike anything I have ever previously experienced…it was religious, and in a good way.
The main set was a mix of old and new. The new songs weren't as strongly supported as the old stuff, but they are growing on me, and there is nothing quite like listening to them live. The acoustic richness of being inundated with the dulcet tones on Neil Finn are amazing, even when he makes stuff up, as he did later in the night with lyrics pertaining to a "half naked man" who jumped on stage.
Unlike the Eastern States concerts, there was 3 encores compared to the 2 there; ultimately Perth does fandom better than Sydney, Melbourne or Brisbane.
I loved every single minute of it. I grew up with this music, as did much of the crowd; it was the biggest Gen X audience I've seen in 10+ years, although there was the occasional Gen Y fan as well.
I'm not totally sure on the rest of the touring schedule, but if Crowded House is coming your way I highly recommend attending. Neil Finn is the poet laureate of our time, and his strong lyrics stand in contrast to a lot of the crap we get today.
The following running sheet via Steward Greenhill, who has his review here, along with some music from the concert.
1. Private Universe
2. Mean To Me
3. Don?t Stop Now
4. Fall At Your Feet
5. Everything is Good For You
6. You?re the One to Make me Cry
7. Nobody Wants To
8. When you Come
9. Silent House
10. There Goes God
11. Don?t Dream It?s Over
12. People are like Suns
13. Walked Her Way Down
14. Distant Sun
15. Weather WIth You
1st encore
1. Locked Out
2. Something So Strong
2nd encore
1. Fingers of Love
2. Four Seasons in one day
3. Better be home soon
3rd encore
1. World Where You Live
2. Pineapple Head
Flickr photos here. Taken from the iPhone, that went flat half way through so they aren't great.