News Ltd CEO John Hartigan gave a speech today. Inquisitr coverage here.
Interestingly he gave some data on The Punch
The Punch has taken off like a rocket since it was launched in May ?¢'Ǩ'Äú our target was to achieve traffic of 80,000 users in the first month. It?¢'Ǩ'Ñ¢s actually achieved almost 200,000.
Now let me say upfront that I actually like the idea (even if after today I don't like Hartigan) and I've already said I hope the site does well.
But here's the thing: even with the force of the News Ltd sites backing it (they regularly link in posts as well as other promos) they've managed 200,000 something… I say something, because users could mean anything, such as page views, uniques etc… indeed, that Hartigan quotes such a figure shows how detached he is to the online world.
Hartigan is right though, takes a while to establish a site, but likewise when you've got the cross-promotional power of News Ltd, 200,000 is surprisingly low.
Mumbrella did a story earlier in the week comparing The Punch to Crikey, but let me stretch that out a bit.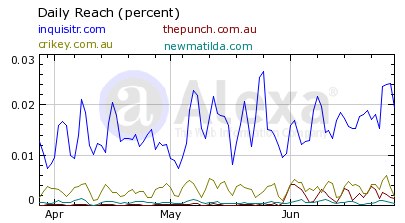 oh wait, I'm just a lowly blogger with no qualifications to run a site (apparently a Commerce Degree in Marketing and ECommerce doesn't count.)
For the record, I've actually held conversations on adding to our content with official wire-like content in the last few weeks. Nothing to announce yet, but we may be expanding our celebrity coverage, and our use of images… more soon 🙂