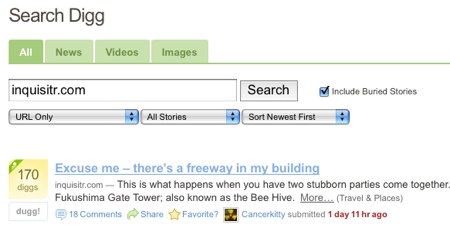 The good news going into Christmas for me was strong traffic for The Inquisitr at a time I honestly worried that we might drop right off. Christmas Eve (US time, so my Christmas Day) delivered us our 4th best day for December, and our best day since December 11.
We've never had any luck with Digg with the site. I've had some interesting conversations with people this year about other sites who rely on Digg; one person noted of another site when I noticed they'd be dropping traffic "they're weening themselves off Digg." I never say no to traffic, so it would be nice to have front pages on Digg, but we've grown without the support of Digg, except for Day 3 when we hit our only front page. Notably this isn't the case with a number of other social voting sites who have been far more kind to us over the last nearly 8 months.
After Christmas lunch I glanced briefly at our stats, and I started seeing traffic from Digg. Not huge amounts, but more than we'd usually ever get. My first reaction: OMG, a Christmas present from Digg.
I looked for the post, and found it to be 4th in upcoming by number of Diggs. I couldn't watch it closely, but the traffic kept coming in from it; in total we did just short of 700 page views from the mention. At about 6pm my time the post was the absolute top of upcoming by votes and sitting pretty for a front page. 11pm PDT Christmas Eve….so I'm thinking lovely, we might have a Digg spike dead on Christmas.
Then it completely disappeared, despite only showing 16 hours old at the time from submission.
It got buried.
This despite posts with half the number of votes hitting the front page before it.
I don't know if the Digg algo unfairly marks us down, or what the story is, but what could have been, and perhaps should have been, wasn't.
Even at Christmas, Digg still sucks.
There is a reason I spend most of my social voting time on Reddit. This just confirms it.