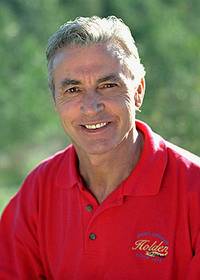 Peter Brock, veteran racing car driver, many, many times winner of the Bathurst 1000 has died today doing what he loved doing most: racing.
According to the SMH, Brock was behind the wheel of a car competing in the Targa West rally and crashed into a tree at Gidgegannup, outside of Perth at lunch time today (Friday 8 September).
I may have been a Dick Johnson supporter in my youth, but like many Australian's I deeply admired the King of the Mountain. For many years it was a family ritual that on a particular Sunday in September we would all sit in front of a television set for the day and watch "the great race" as it unfolded, no mean effort the race itself goes for roughly 8 hours. And year after year one man continued to win on a regular basis: Peter Brock.
Although in recent years, his interview on Denton in particularly may have turned away some fans, he will still always hold the position in the hearts and minds of Australian's as our greatest ever Touring Car Driver.
My thoughts and condolences to his family at this time.