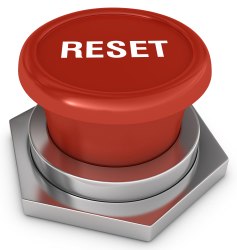 Before I start, let me say that the following comes with a warning: I'm not a lifestyle guru, nor am I a life coach, any sort of guru, or any of the god knows how many sites who are promising you the world based on an idea.
But here's the catch: I have an idea.
The following should be taken with not a grain of salt, but with about a dozen bags of it, because like way to many people blogging theses days, I'm not an expert just because I have an idea that may or not be good.
That aside.
In the new year I'm hitting the reset button on my life.
I've had some amazing experiences, successes, but I've also had some fucking tragic awful failures, be it mostly in my personal life.
Yay, I can build a website up. Nooo I fail at relationships, although I can survive them from anywhere to 3 months through to 9 years (with most <2 years.)
A friend (and I wish I could remember who) once said to me that you will only be ready for a relationship when you are comfortable with living by yourself.
After nearly 10 years of marriage the whole concept sounded wrong. The thought that I could live alone was wrong, and after the separation then divorce all I did was try to fill my life with someone else.
I'm not suggesting that anyone reading this can't, or shouldn't have someone in their life, but it's an interesting point: "you are only ready for a relationship when you can live with yourself" (I know that's not what I wrote above, but in each instance, it's words to that affect.)
I can live with myself now. Actually, at this point in my life, I'm quite happy doing so. It only took 38 years 🙂
I'm currently planning to move back to Chiang Mai, where I spent roughly 4 out of the last 6 months in. I love the place, but I'm not using this post to explain why, I'll save that for another post.
The moral/ idea of this post/ story is that you can be happy alone (with salt 🙂 ) I know it's hard and hell it took me years to accept it but as I write this I know that I'm going to be far more happy alone than I will be in a relationship (and that's putting aside the BS I've dealt with.)
I only wish I could remember who told me about being happy alone so I could credit them.
I've been there, done that, and if you are going through any relationship issues, or alone issues, know that there is a light at the end of the tunnel, and you can be happy alone.
I'm not going to open up a call centre here but if you want to talk about your probs, or ping my brain: duncan at nichenet.com.au Happy to talk.
But again, as per the heading: the reset button is coming. I hope to get back in Chiang Mai ASAP and come January 1st I'm pressing that button.
(insert guru stuff here) YOU CAN DO THAT 😀
OK so I'm taking the piss now but seriously, I am, and if anyone reading this has had any doubts, you can as well.