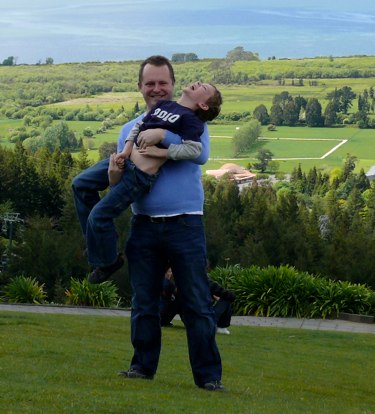 You're may well ask why just over a month since visiting New Zealand I'm writing this post now, but there is a perfectly good explanation: the site is still a little borked. No header, and when I post this post, the screen will go blank. But better late than never.
So last month I spent 3 days in New Zealand (left Melbourne Friday night, returned Monday night.) It was a short trip, but it was also the only length of time I could get the family away, and was the first trip overseas for my son and the soon to be ex-she who must be obeyed.
It was insanely cheap, as in < $1k rtn for the three of us flying Qantas. Accommodation was insanely cheap again, as in roughly AU$110 a night (x2) for the Hyatt Regency Auckland, and about $115 for the night in Rotarua. So we had 3 days. We hired a car at the airport (again, cheap vs Australia) and at 1am in the morning I drove in a foreign country from Auckland airport to the city, without GPS or iPhone. Yeah, we got lost in the city, but eventually I said bugger the data charges at turned on global data roaming on the iPhone. The Hyatt Regency Auckland was possibly one of the best hotels I've ever stayed in (only better was Burswood Casino in Perth.) Not so much the position, but the pure luxury of the place; you couldn't really ask for much more, and it was cheaper than a 3 star in Australia. The Saturday we left the hotel and had our first feed in NZ. A small cafe in the Auckland CBD we happened to come across. It wasn't that flash to look at, but by god the food was good. That was our first introduction to New Zealand bacon. It's like Australian short-back bacon but smaller. I'm not sure if they take it from smaller pigs or it's a slightly different cut, but it was the best bacon (not just here, we kept eating it while we were there) I've ever had. It's for lack of a better term sweet. We then drove out of Auckland to Rotarua, getting into town about 1pm. The drive was fine; roads are mostly very good, although the difference vs Australia is that the speed limits tend to be slower; there's no 60km/h and 110km/h speed limits, it's all 50km/h (even on major roads) or 100km/h. The signs are also very European in nature, something that was a theme in New Zealand: the country is in some ways far more British than Australia, well...except for their fast food outlets (they have Burger King and Wendys for example.) If you've ever seen Lord of the Rings, you'd get a rough idea of the majesty that is the New Zealand landscape. We were in the top of the North Island, and I'm told the further south you get, the better the scenery. But likewise I don't care. The thing I marveled at the whole drive down was how epically majestic the scenery was. I've been to many places in Australia, some of which are beautiful...but NZ is something different again. In Rotarua, we did the skyline thing, including one trip down on the concrete luge. The views were stunning, the food ok, and reasonably good value..well, except the trap they try to sell you with photos as you leave (we didn't fall for that.) Next was the free thermal public park as you drive in to Rotarua, which reaked of sulfur. I've seen nothing like it, and it was fascinating.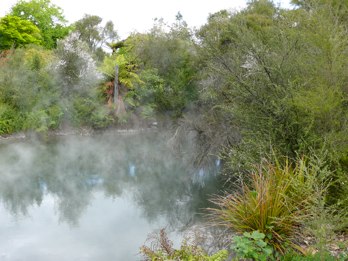 Next up was a big thermal pool place; it cost us maybe NZ$40ish to hire a private pool for 30 minutes, and it was worth every cent. Looking over the lake, just amazing, and the pool was something special.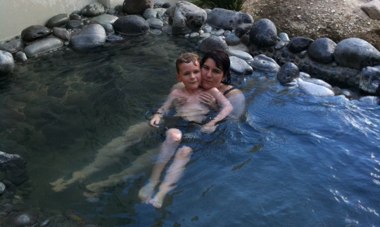 My only mistake was that we didn't get a hotel with its own pools; at least 1/3 hotels in Rotarua offer that.
Dinner was cheap, helped by the AUD/ NZD exchange rate. The thing I'd note about NZ is that the prices are about the same (except petrol which was expensive..but not Diesel) in that prices were what you see in Australia in visual $ terms, except that you take roughly 17-20% off due to the exchange rate, which makes it cheap.
Next day breakfast on the way back up: some little town, random caffee…unbelievably amazing bacon again.
We took a detour to Te Awamutu to see the Finn Museum, but it was closed. Nick Hodge is to blame there,but likewise the diversion on the trip took us on a different route so we got to see more again.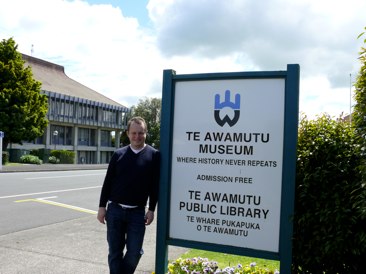 Back in Auckland in the afternoon. Lazed around,went for a swim. Took a walk around the harbor area, very nice, had a beer. Headed to the Skytower for dinner, food was reasonable, view amazing. Cost…ok.
Next day, last day, more bacon, more awesome. We started with a Harbour tour, again very nice, cost ok. Auckland Harbor is pretty, but maybe 2nd on the list after Sydney Harbor. Ticket included a free trip afterwards to Davenport, Aucklands oldest suburb.
Had to wait too long for the boat, so we drove. The trip north of the Auckland Harbor Bridge is like driving along the Kwinana Freeway in South Perth…but in a different direction.
The only disappointment on the whole trip was Davenport. It wasn't that exciting. We ate Subway for lunch, and it was possibly the worst meal I've ever eaten (and I like Subway) we actually all threw most of it out.
After that it was to Mount Wellington, an extinct volcano. Amazing views, very pretty, and nothing like anything you see in Australia (well, the Mountain of the same name in Hobart comes close, but in Auckland, its smack bang in the middle of things.)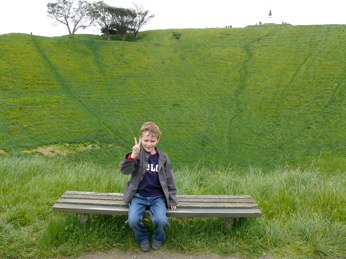 Then back to the airport, and home.
Overall: the only thing I was sad about is that we weren't there longer. New Zealand isn't just a cheap country to visit, but an amazingly beautiful one. At every stage we felt welcomed, service was great, and the food better again.
Auckland was ok, but likewise it was just another city, but it a fairly pretty one. The key is to get out of the city area and take a look around.
Not sure if I could live there, but I can think of far worse places to live. I have to go back…and soon. I loved it, and can't recommend it enough.