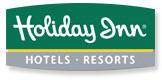 By way of introduction we regularly travel to Perth, say every 2-3 months, usually to catch a show or do some shopping and on every trip we usually try a new hotel, after all it makes the 2 hour drive a bit more of an experience when we get there. I don't think I've ever written a hotel review here before at duncanriley.com despite having stayed in probably a dozen or more different hotels over the last 3 or 4 years in Perth, some were good, some were ordinary, but this trip gave cause for comment because unfortunately my generally observed rule for hotels: you get what you pay for, didn't hold true.
The Holiday Inn Perth didn't come super cheaply, although in this day and age one could well argue that $170 (AUD) per night including breakfast is a reasonable cost, you can certainly book other 4 star hotels in Perth for less on corporate or last minute rates. I've never stayed at a Holiday Inn before but through word of mouth I was always led to believe that Holiday Inns were a solid American Hotel experience, clean, very high standard…indeed at the top end of the 4 star ratings experience.
Suffice to say the word of mouth was incorrect.
Clean is not a word I'd apply to the Holiday Inn Perth. Sure, the room had obviously been cleaned…lightly, but the grime in the bathroom was enough to make even me feel sick looking at it, and personally I detest cleaning and would not normally be regarded as a clean freak. The grout between the tiles was filthy, to the point that I'd suggest that it may never had been cleaned properly since new. Black/ Red/ Brown stains throughout the bathroom, but at their worst in the shower. Just gross on every level. Again, I've stayed in a lot of hotels, cheap ones and expensive ones, and even in the dodgy ones I've never seen ANYTHING like this.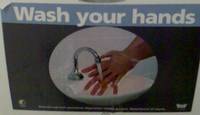 The rest of the facilities were acceptable. Just. No parking except for Valet at $25 a night, a bit rough given just about every other hotel in town offers free parking. Dinner was slow to be served, then arrived cold. She who must be obeyed complained and got hers reheated, which probably took 10-15 minutes after waiting 30-40 minutes for the dish to arrive (we were the ONLY customers in the restaurant when we arrived), I was so hungry by this stage I just ate mine cold. My 4 year old then burnt his thumb on an open and exposed light globe at the pay point/ bar. He was offered ice. WTF was a light globe doing sitting out like that in the first place? Let's see, a great big sign in the toilets informed me I should wash my hands (right), but they cant get basic OH&S set up at the point of sale??
Then there was the curtains. Being in a big city, even be it one that is dead after 6pm means there's lots of light, from buildings, cars, streetlights etc, all of which happily beamed through our rooms window. We never gave it a second thought until about 11pm after returning to the room from a show. We tried to close the curtains….they don't close. Yep, we could get them maybe 80% of the way across, then nothing but the bright light shining into our room. She who must be obeyed bought this up with reception the following morning, all she got "I'm very sorry about that, you should have contacted us and we could have changed your room"…at 11pm, with a 4 year old after a big night out? WTF? how about giving us a room with curtains that work and a bathroom that doesn't have mold dating back to the Jurasic Period growing in the grout??!
So a word of warning to travelers to Perth. Avoid the Holiday Inn Perth like the plague…indeed, given the grime in the rooms you're just as likely to catch the plague by visiting there. If you're looking for value in a large group, try the Seville Suites, looking for a straight hotel room, the Novotel if you can get a good rate. Upmarket: Intercontenential Burswood (expensive but worth it).
Tags: Holiday Inn, Holiday Inn Perth