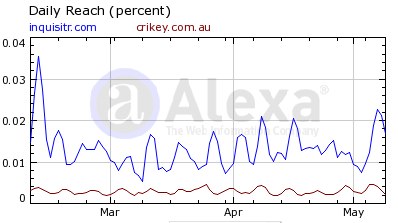 I quit the weekly column at Crikey today, and they chose not to publish the last one. Why let it go to waste though.
The stories that I cut before submitting (and are not below) were a Huffington Post internship selling for $13k, a new round for BlogHer, and a piece asking why The Gruen Transfer crippled embedding on the fat pride ad. Note the copy isn't final proof.
Not doing the column frees up a decent chunk of Thursday afternoons, and some of Friday morning. Hopefully I can use that time more constructively to add to The Inquisitr's traffic and content.
This Week in Geek: the unpublished and final edition.
Apocalypse Now: The nearly unthinkable happened overnight when Google went down at 12:48am Friday Australian Eastern. The outage affected Google services including Google Search, Gmail, YouTube, Google News, Blogger, Google Analytics and Google Docs. There are also reports that the outage affected Google Ad Manager and Google Adsense, resulting in blank spaces on sites running Google served ads.
Google claims in a post titled ?¢'Ǩ?ìThis is your pilot speaking. Now, about that holding pattern…?¢'Ǩ¬ù that problem was caused by a flight from New York to San Francisco diverting to Asia… at least that?¢'Ǩ'Ñ¢s the analogy they used. The more technical version is that a significant chunk of traffic to Google was routed via Asia due to an error somewhere in the Google chain of server farms, causing ?¢'Ǩ?ìslow services or interruptions.?¢'Ǩ¬ù
Services would appear to be back to normal, although Google users were reporting problems many hours after the issue first emerged.
More blogs on the Kindle. Amazon has opened its Kindle Blog Publishing Program to all blogs after running only a select few since their Kindle e-book reader first launched. The program offers paid blog subscriptions to Kindle users, complete with custom Kindle formating. Amazon takes a 70% cut of the usual $1.99 monthly subscription price. Existing blogs in the program have reported that the earnings are pocket change, and Kindle users can still read blogs directly and for free through the Kindle?¢'Ǩ'Ñ¢s web browser.
Craigslist rolls over on erotic ads. After weeks of pressure from US law enforcement officials, Craigslist has decided to remove their erotic services section and monitor adult services posts. The erotic service section on Criagslist had become a favored advertising outlet for prostitution, an occupation that is weirdly still illegal in the United States.
Posts to the Adult Services category will cost US$10, and will be reviewed prior to publication by Craigslist staff. A full copy of the Craigslist statement here http://news.cnet.com/8301-1023_3-10239671-93.html
Pipe dreams. For years now the promise of WiMax and 4G networks has been nothing more than a pipe dream, as opposed to the physical pipe dream of the National Broadband Network (NBN) which was not properly funded in the budget (link Stilgherian budget coverage). One argument against the NBN has been the future availability of next generation wireless networks negating the need to lay fiber, but that?¢'Ǩ'Ñ¢s a promise that has been made about WiMax and 4G for years, and still we wait.
WiMax and 4G networks won?¢'Ǩ'Ñ¢t be available tomorrow, but they might not be far away. In the United States, Cisco as been appointed to supply equipment for Clearwire?¢'Ǩ'Ñ¢s WiMax network, and Verizon (a major US mobile carrier) has started offering briefs for LTE (Long Term Evolution), the 4G technology that Verizon and AT&T will be using in their next generation mobile phones. These services offer data speeds comparable to the NBN in its current specifications, and cost far less to implement.
If only it was permanent. Vodafone in the UK has announced it is abolishing roaming fees for its mobile phone customers in the 45 countries it operates. The offer will allow users across Vodafone?¢'Ǩ'Ñ¢s international network to make calls or use SMS at regular call rates.
International call rates will be applied where applicable, for example calling the UK from France would attract the international call rate, but calling a local number in France if you?¢'Ǩ'Ñ¢re visiting France would be charged at the local rate. Notably neither would attract a roaming charge, make calls significantly cheaper. The offer has also been extended to receiving calls, so receiving a call outside the UK on the network is free.
Sadly the deal is only a limited time offer and available from June 1 to the end of August. No word on whether it will be extended to Australian Vodafone customers, but don?¢'Ǩ'Ñ¢t count on it.
The European Union voted in April to impose strict fee caps on roaming charges within the EU from July 1, after finding the current rates were a ?¢'Ǩ?ìrip-off.?¢'Ǩ¬ù
Take me to the stars. Google has launched Sky Map, a new application for their Android mobile operating system that allows users to identify the stars they are looking at. Using GPS and a built in compass, users point their mobile phone in the direction of the stars they are looking at, and the phone matches the stars. Link