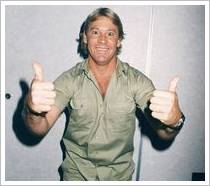 Australia's own clich?É?í?Ǭ©d gift to the world, Steve Irwin, is dead, killed in an accident doing what he loved best, interacting with deadly wildlife, in this case, a Sting Ray that seems to have taken offence to his presence. Indeed, it's not hard to image Irwin saying "crikey" as his last word as the stingray barb went through his chest.
Like many Australians I found Steve Irwin annoying. He portrayed a view of Australians to the world that gave Americans in particular the impression that Australians wrestle with crocodiles and say "crikey" at regular intervals. Of course, whilst this caricature was not a true representation of a typical Australian, Steve Irwin was a character in his own right, he was passionate about many things, preservation of our wildlife, and of course, Biosecurity on the Customs ads that pollute our television sets. To his credit he managed to build a world wide fan base where many have failed before him. For many in the world, he put Australia on the map.
Perhaps most sadly of all, he leaves a wife and young children behind. Of course, through many appearances (notably on a Wiggles Video) his daughter is well known to many Australians as well, and today she has lost her father.
I'm sure I'll be joining many Australian's today in sending my heartfelt condolences to his family. For all his annoying attributes, Steve Irwn was a trooper, a man who stood by his convictions and truly built a name for himself. He may not have been perfect, but he will be remembered as a man others can only aspire to be, for in his celebrity he continued to remain a true Australian, one who remained humble despite the trappings of fame, and remained loyal to our nation.
Tags: Steve Irwin, Crocodile Hunter