Firefox is great, right? but you can make it better.
1. Downthemall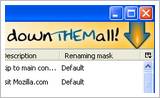 The one thing Mozilla can't seem to get right with Firefox is the downloading feature, although having said that it's not like Internet Explorer is any better either. Downthemall powers up downloading in Firefox. Not only does it speed your downloads up, it includes pause and resuming support and the ability to download all images from a page should you so desire. 110% recommended.

OK, so I'm a weather junkie. There is actually quite a few different addons available for Firefox to add weather to Firefox, however all in all Forecastfox works for me, particularly because most plugins are far to US centric and don't tend to provide decent support for those in the rest of the world, where as Forecastfox does.

The essential tool for getting details on websites quickly. Right click support for quick whois look ups, SEO tools + probably the most important feature for me: it supports sending Alexa stats, which obviously helps with making sure you're own websites get a look in at Alexa given there's no Alexa Toolbar for Firefox…indeed, it's actually better than having the Alexa toolbar, all the benefits without the other rubbish included.

Do you ever get bored with the internet? come on, admit it, sometimes it's nice to spend some time not working and just finding some great new sites. StumbleUpon delivers this and more. I don't use some of the social network aspects of the toolbar, but in terms of just surfing sites for the fun of it, based on topic interest, it's great, indeed sometimes it's hard to stop using it 🙂

According to their website, The Web Developer extension adds a menu and a toolbar to the browser with various web developer tools. For anyone working with templates or designing on any level, it's a must have. Can't remember what part of site relates to in the CSS file, use it, want to be able to look at code behind the scenes, use it…there are probably 100 other reasons to be using it as well and I've probably only personally used 10% of it's functionality, but these days I can't live without it.
Ever visit YouTube or a similar site and watched a clip and thought wouldn't it be great if you could download a copy, then this plugin is for you.
If you're like me sometimes you forget what you've got open in each of your tabs. foXpose comes to the rescue by adding an Opera style show all tabs in the one window feature. Sure, you're not going to die by not having this, but it's nifty and you'd be surprised how often you end up using it.
Control your music from with Firefox, you need not go another screen again!
If you're like me and you've got no idea what a square foot is, this plugin is for you. You use it to convert imperial measurements to metric ones, or vice versa.
If you absolutely must view a site in IE because some moron has decided that web standards don't matter, IE Tab is for you, allowing you to render any page/ link in Firefox, but using the IE rendering engine, basically like having IE inline in Firefox for you to use if you need it.
That's the list. There are heaps of others out there as well. I would have liked to have added FireFTP and Chatzilla to the list, but I'm not convinced either are totally up to scratch, even if I do use them on occasion.
Tags: Firefox, Firefox Add-ons, Firefox extras, Firefox plugins