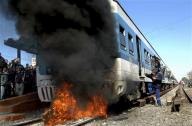 I wonder what colour a Connex train would burn?
via Reuters:
Furious rail commuters in Argentina set fire to a train on Thursday in anger over delays during the morning rush hour.

Television images showed black smoke and flames engulfing the train at the station of Merlo, in the western suburbs of the capital, Buenos Aires. At nearby Castelar, passengers hurled stones at the ticket office and blocked the rails….

Many passengers said the delays, caused by a broken down train, had cost them a day's work.

Argentina's dilapidated rail services are plagued by delays and travelers' anger sometimes erupts into violence.